site information
This page contains general website information, a who's who at the Peedie Gallery, credits and thanks and terms and conditions of using the site.
This website (www.peediegallery.co.uk) is the online manifestation of the Peedie Gallery - a portable (miniature) gallery made from a shoebox.
The Peedie Gallery is a project devised, developed and managed by 59north - an arts management and creative project development collaborative based in Orkney. The aim is to not only develop, build and manage a unique gallery space on as small a budget as possible, but to hopefully add to and expand the dialogue and discussion locally about galleries and the arts - hence the location and novelty of size of the gallery.
You can contact the Peedie Gallery via email at info@peediegallery.co.uk, or via our online contact form.
who's who
Director / Lead Curator- Rik Hammond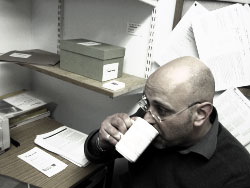 Rik Hammond, the Director of the Peedie Gallery on site, taking a well-earned coffee break
Rik Hammond is an Orkney based artist and website designer and founded the Peedie Gallery in early 2006.
He produces artwork as an individual and also within a collaborative - ussr1049 - with his partner, Clare Gee.
Rik is a senior associate of digitalORKNEY and is a partner in the 59north creative consultancy, also based in Orkney, which manages dromolog.com - an art and science research incubator and the publication sucking_mud - a visual arts and poetry pamphlet, based in the Northern Isles
» Contact Rik Hammond...
credits & thanks
The Peedie Gallery website is designed, built and hosted by Rik Hammond at watson press website design & authoring - supported by digitalORKNEY - an associate network of ICT professionals based in Orkney.
Thanks to all the formal and informal partners of the Peedie Gallery for helping with the project.
Thanks, especially, to Orkney Arts Development and the Orkney Museums and Heritage service at Orkney Islands Council for supporting the Peedie Gallery project - and giving it a home for its first location.
Also - many thanks to Matilda Tumim and Christopher Prendergast (Christil Trumpet) for having enough faith in the project to take on the task of being the first artists to exhibit at the Peedie Gallery...
...and last, but not least, thanks to all the visitors to the gallery (both online and 'in the flesh') who have given us so much support with this project.
terms & conditions
All materials including photographs, documents, text, audio and video files are the copyright of the contributing/participating artist and/or the Peedie Gallery/59north - or the contributing organisations and individuals who have given their permission for the use of such material for use on this website.
All rights in the pages and contents of this website are reserved by the Peedie Gallery unless otherwise stated. No part of this website or its contents may be reproduced or distributed in any form other than for private use or in accordance with the provisions of the Copyright, Designs and Patents Act 1988 and any amending legislation. All reproductions require an acknowledgement of the source and the author of the work.
The permission to reproduce material does not extend to any material on this site which is identified as being the copyright of a third party. Authorisation to reproduce such material must be obtained from the copyright holders concerned.
The names, images and logos of other organisations and partners listed on this website are proprietary marks of those organisations and may not be reproduced without their prior written permission.
We collect personal information which you submit voluntarily, such as names and email addresses in our online contact form. We may use software on the website to collects statistics from IP data, such as to determine what times of day people access our site, countries of origin, and length of site visit. This website does not use 'cookies'. We will not share any information provided by visitors to this site with any other external organisation. Email addresses collected via our online email newsletter system will only be used by us for Peedie Gallery publicity purposes and for broadcasting information about future exhibitions and events deemed relevant to the subscriber. We never pass on email addresses to 3rd parties.
Whilst every effort is made to ensure that information and documents contained on this site are correct and error free, no responsibility or liability can be accepted for any loss or damage incurred as a result of relying on information or downloading files contained within this website. We strongly recommend that you use and regularly update anti-virus software and submit all downloaded documents to a virus checker prior to opening.
Certain links in this website will lead to websites which are not under our control and we will accept no responsibility or liability, for any material or service contained therein, nor does the existence of such links represent any endorsement or other acceptance of responsibility or liability by us or any goods or services provided or available on such sites.
Thank you for visiting the Peedie Gallery.