christil trumpet
Exhibitions at the Peedie:
coupling | 22nd May - 21st July 2006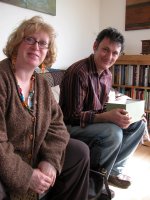 Matilda Tumim & Christopher Prendergast
with the Peedie Gallery - May 2006
Christil Trumpet is an artistic collaborative between Orkney-based artists Matilda Tumim and Christopher Prendergast - with support from their three sons, Josh, Theo and Erlend.
Christil Trumpet have been chosen as the artists for the inaugural exhibition at the Peedie Gallery - the title of their show being 'coupling'.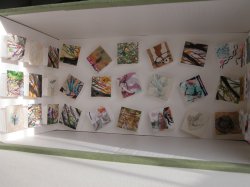 'coupling' by Christil Trumpet
Christil Trumpet is a shortened, bawdy anagram made from the two artists' names.
Making art together is a natural extension of their shared life. For them, collaboration is a symbiotic process and it is their common intention to provoke thoughts about the nature of beauty through their artwork.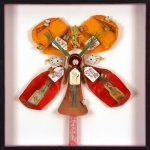 'Flora Tantra' 2004
From the Foul Flora, Weird Waves series by Christil Trumpet
Christopher and Matilda both graduated from Falmouth School of Art & Design in 1984, following which they spent six months travelling around India. Matilda then went on to do a postgraduate degree in painting at the Royal College of Art, graduating in 1987. They moved from London to Orkney in 1989 and lived in Herston, South Ronaldsay, before moving to Stromness, where they have lived ever since.
Christil Trumpet are currently the artists in residence on the Scottish Arts Council funded pARTners Residency at Papdale Primary School in Kirkwall, Orkney.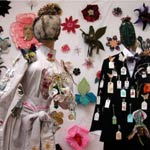 'Wedded' 2005
by Christil Trumpet
All images © the artists / the Peedie Gallery