transaprencies:
bands of paint
Transparencies: Bands of Paint
by Jade Stout
30th March - 25th May 2007
Location: Orkney College, Kirkwall

Transparencies: Bands of paint
by Jade Stout
» View the exhibition (new window)
Transparencies: Bands of Paint
by Jade Stout
Artists' statement
"My work is about my memories of the sea, but is also greatly dictated by process and chance.
"My memory of seascapes has many layers and many influences, from growing up in Orkney to a recent trip to Mull, creating a composite image of all the beaches I have visited. I represent this in my paintings which are not about one place or one time, but an amalgamation of all these places and times.
"I paint a large number of canvases concurrently to create my own seascape, my own world. This allows me to experiment with processes and techniques, continuing ideas from one painting to another, connecting paintings and creating connected imaginary seascapes."
Jade Stout
Website: www.jadestout.co.uk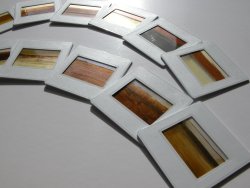 » View the exhibition (new window)
» Exhibition poster (58Kb JPG)
» Exhibition catalogue (2.1Mb PDF)
» More information about Jade Stout...
The Peedie Gallery would like to thank Orkney College and the UHI Millennium Institute for their support with hosting the gallery for this exhibition.