Rik Hammond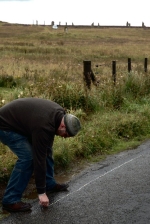 Rik Hammond lives and works in Orkney - the group of islands which lie off the northernmost tip of Scotland. Originally from Hastings in East Sussex, he studied Fine Art at Falmouth School of Art and Design in Cornwall.
He works in a wide range of traditional and digital media - including drawing, painting, photography, print, video, digital code/data, bookworks, mail art and durational, site-specific interaction and installation.
Rik has a particular interest in Art & Research, the role and use(s) of drawing, interdisciplinary collaboration, Art & Archaeology, ambulatory and mapping arts, curatorial practice, liminality, entropy, psychogeography, counter-tourism, memetics, heritage and memory. Within his practice he often finds himself drawn to investigating the nature, meaning and production of art, and the way in which it can be read - specifically the roles of artist, audience, participant and curator. He also has a passion for exploring the use of technology within his practice, often implementing computer code and raw data into his work - including virtual and augmented reality platforms and geo-location capture and mapping systems such as GPS (Global Positioning System) devices and GIS (Geographic Information System) software.
He draws extensively - much of which is housed in drawing books - seeing the act of drawing akin to thinking. He predominantly draws in an automatist way and enjoys the immediacy and intimacy of working on paper. Rik's drawings often interrelate and are commonly made in series. He rarely titles his drawings and paintings. Enquiry, chance and experiment tend to be the basis for the decisions he makes whilst producing work.
Between 2011 and 2012 Rik was the Orkney World Heritage Site Artist-in-Residence - focusing on the archaeological landscape of the Heart of Neolithic Orkney World Heritage Site - with time spent developing new work alongside archaeologists at the Ness of Brodgar archaeological excavations and culminating in a solo exhibition at The Pier Arts Centre in Stromness. The residency, entitled 'Symbols in a Landscape' - developed in partnership between The Pier Arts Centre, the University of the Highlands & Islands Archaeology Institute and Historic Environment Scotland (formerly Historic Scotland), and with support from the Scotland's Islands initiative - looked at ways in which Orkney's landscape, culture and heritage could be interpreted through the combined lens of archaeological study and contemporary art, with Rik's role as artist-in-residence being to devise new forms and actions which might help reveal notions of identity, belonging and place. He continues to collaborate with archaeologists and other heritage professionals to this day.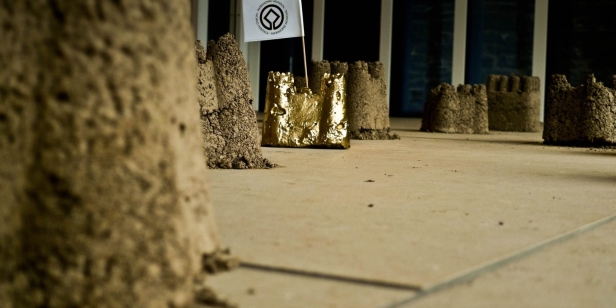 'Spoilcastles' by Rik Hammond (made from Ness of Brodgar archaeological excavations spoil heap dirt)
Being & Remembering: new work by Rik Hammond - The Pier Arts Centre, Stromness 2012
(Photo: Fionn McArthur)
Following the residency, Rik gained a visual arts award from Highlands and Islands Arts (HI~Arts) to pursue self-directed research focusing on further archaeological and liminal landscapes around the archipelago of Orkney - specifically in regards to developing new work using GPS, film, drawing and photography. Work developed during this period was exhibited in the solo exhibition 'Rik Hammond: Notes from a dark island' at The Loft Gallery in St Margaret's Hope, Orkney. His research into island, coastal and liminal landscapes is ongoing.
He was also commissioned in 2012 by the Stromness Townscape Heritage Initiative (Stromness THI) to develop a new public artwork - in collaboration with the local community - along the lines of sense of place and heritage. The final work, 'Postcards From Stromness' - a dual screen, durational, digital work - is now sited in the new pierhead 'Warehouse' building in Stromness.
Throughout 2015 he undertook a 12-month, self-directed, visual arts reserach project - A Year In The Orkney Museum - focusing on the collections, store and curated spaces of The Orkney Museum in Kirkwall - supported by a Creative Scotland Artist Bursary and hosted by Orkney Islands Council's Arts, Museums & Heritage Service.
After several years of collaborating with Dr James Moore (archaeologist and lecturer at the University of the Highlands & Islands Archaeology Institute), 2015 also saw the first season of fieldwork of the Yesnaby Art & Archaeology Research Project take place, which they co-developed and co-direct - a multi-year, interdisciplinary and experimental Art & Archaeology research project focusing on the landscape, archaeology and (pre)history of the township of Yesnaby on the west coast of the Orkney Mainland.
Rik is also the Visual Arts Representative and current Chair of Orkney Arts Forum.
This web site contains a sample of work from recent years - Rik's Facebook page documents work from the last 20+ years, as well as containing up to date information about recent projects and exhibitions.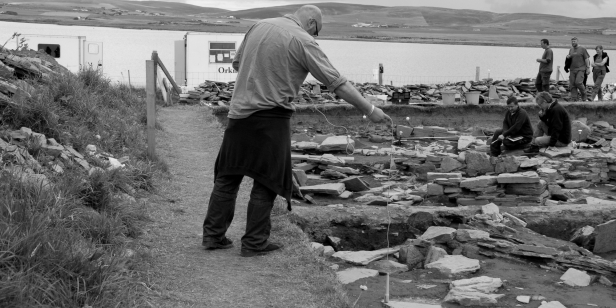 'Trench Recording' - Rik Hammond at the Ness of Brodgar archaeological excavations 2011
Orkney World Heritage Site Artist Residency
(Photo: Clare Gee)
Further Information:
Born Hastings, East Susssex 1969
Self-employed, freelance visual artist
Lives and works in Orkney, Scotland
BA (Hons) Fine Art
Falmouth School of Art & Design, Cornwall 1989 - 1992
Foundation in Art & Design
Hastings College of Arts & Technology, East Sussex 1988 - 1989
Recent Activity:
2016 . Yesnaby Art & Archaeology Research Project - co-director, with Dr James Moore of the University of the Highlands & Islands Archaeology Institute (2nd season of fieldwork, with a team of 12)
2016 . Project Goodfellow: In collaboration with Martin Carruthers of the University of the Highlands & Islands Archaeology Institute and Site Director of The Cairns archaeological excavations in South Ronaldsay, Orkney - conducting an interdisciplinary Art & Archaeology pilot project during The Cairns 2016 excavations (the Rev. Alexander Goodfellow first investigated the site c.1901)
2016 . A Year In The Orkney Museum: pop-up solo exhibition at The Orkney Museum of work developed during 2015
2015 . A Year In The Orkney Museum: A 12 month, self-directed visual arts research project focusing on the collections, store and curated spaces of The Orkney Museum in Kirkwall - supported by a Creative Scotland Artist Bursary and hosted by Orkney Islands Council's Arts, Museums & Heritage Service
2015 . Yesnaby Art & Archaeology Research Project - co-director, with Dr James Moore of the University of the Highlands & Islands Archaeology Institute (2015 fieldwork: 20 - 31 July 2015, 1st season - team of 9)
2015 . ~perhaps found (perhaps not): new work by Rik Hammond inspired by Orkney's archaeological landscape - solo exhibition at The Orkney Museum, Kirkwall (February 2015)
2014 . Spent time developing new work alongside archaeologists at The Ness of Brodgar (Site Director: Nick Card) and The Cairns (Site Director: Martin Carruthers) archaeological excavations in Orkney (June - August 2014)
2014 . Began development work with archaeologist and lecturer Dr James Moore on a new Art & Archaeology project - the Yesnaby Art & Archaeology Research Project - investigating the landscape of Yesnaby in the West Mainland of Orkney
2013 . Rik Hammond: Notes from a dark island - solo exhibition at The Loft Gallery, St Margaret's Hope, Orkney
2012 . Supported by a HI~Arts visual arts award to further research work relating to archaeology, islands and landscape - using video, drawing and GPS
2012 . An Island Gateway Project (Stromnness Townscape Heritage Initiative) - public art commission and exhibition, in collaboration with the local community - final digital work, 'Postcards From Stromness', sited in the new pierhead 'Warehouse' building in Stromness
2012 . Being & Remembering: new work by Rik Hammond - solo exhibition at The Pier Arts Centre, Stromness, Orkney (following art and archaeology residency 2011/12)
2012 . Rik Hammond: Recent Drawings - solo exhibition at The Orkney Museum, Kirkwall, Orkney
2011 . Began collaborating with Dr James Moore of the University of the Highlands & Islands Archaeology Institute
August 2011 - March 2012 . Orkney World Heritage Site Artist-in-Residence (see: www.symbolsinalandscape.com)
All artwork © Rik Hammond • info@rikhammond.com • Follow Rik Hammond on Facebook